Green Bus Stop around the world
Bird-Bus Stop
This green shelter will not only serve as a bus stop but also a mini garden and an educational center. Each bus stop will have in the roof top a selection of local plants that will provide home and food for various bird species to invite them back to the city. There will also be information about birds, native plants, and the environment. This disposable shelter can be assembled from few components without glue.
Malaysia Self Sustain, Low Cost Green Bus Stop
Normally when people talk about green, the construction should be higher than conventional. However, Malaysia can made a really sustainable bus stop with the same cost as conventional Bus Stop.
This is a bus stop in Batu Caves , Selangor under the management of Majlis Perbandaran Selayang (MPS).
Flood is one of the major problem in Kuala Lumpur. Our Smart Tunnel still can not function effectively for flood prevention
Installing green roofs in

urban areas

can significantly help with storm water runoff issues that can cause extensive pollution when city water systems aren't equipped to handle runoff caused by non-absorptive city surfaces — like concrete, asphalt and rooftops. For Malaysia, MASMA tank is normally used for that other than the Smart Tunnel, however it still heavy rain can not be predicted and the city still experiencing flood.
Adding green spaces, especially green roofs, can help absorb that

water

and stop it from carrying pollution into local waterways and sewage systems.
Though this tiny green roof will only absorb a small amount of water, imagine the water retention possibilities if all Malaysia planned bus stops, with their powers combined, had green spaces overhead.
Pinggiran Batu Caves have a very beautiful scenery. It is one of the extreme sport place for rock climbing and attracted rock climber from around the world.

San Francisco
Bangkok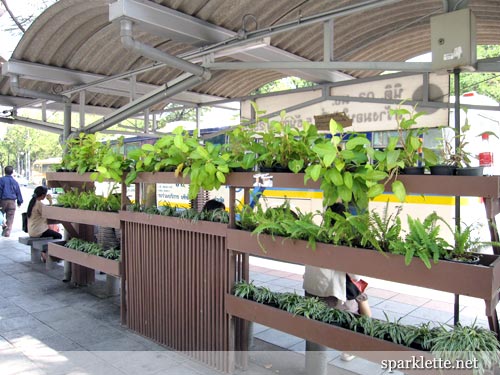 Penang Green Bus Stop
PENANG Island will see the construction of some 150 new bus stops by the middle of next year to assure the community greater access to bus services.
The project, which is into its second phase, is being carried out in the Batu Ferringhi and Balik Pulau by a private company.

The new bus stops, being built to international standards, will have CCTVs, an area for parking up to six bicycles, and solar panels to light up the bus stops at night.

Viewplex (M) Sdn Bhd corporate affairs division manager Angelyna Radhi said apart from these new features, the level of the bus stops will be raised on par with the step of the buses and a leaning rail to enable the wheelchair-bound to board the buses easily.

Viewplex, a Penang-based business, is responsible for building the new-age bus stops at a cost of RM5 million.

"The bus stops are built using polycarbonate material which provides protection from harmful ultraviolet rays, galvanised iron and concrete, and the solar panels will save on the cost of electricity, complying with the cleaner, greener Penang objectives," Angelyna said.
She said three bus stops in Jalan Sungai Dua, Jalan Mayang Pasir and Jalan Tengah, were completed in October."Each bus stop costs between RM30,000 and RM35,000 and we are targeting to complete 25 to 30 per month... we will also monitor and be responsible for the cleanliness of the bus stops," she said at a recent press conference here.

Angelyna said there will be two supervisors, two technical support workers and a host of general workers who will be charged with the management and maintenance duties of the bus stops.

Also, Penang Island Municipal Council's Ramlah Bee said the work by the company was welcomed as it promoted green initiatives.

"There will also be recycling bins, community notice boards, bus schedules and a map for the convenience of the public," she said.

Ramlah said contractors were invited to participate in an open tender last year to sponsor, build and oversee the maintenance work for the new bus stops, as well as submit designs for disabled-friendly bus stops.